Sale price
$5.00
Regular price
Cascarilla is a fine white powder made from the crushed and powdered eggshells of certain plants, primarily the croton eluteria tree. It has a long history of use in various spiritual and folk traditions, primarily within Caribbean and Latin American cultures. Here are some of the benefits and common uses of cascarilla:
Spiritual Cleansing: Cascarilla is widely used for spiritual cleansing and purification rituals. Practitioners often apply it as a protective barrier to ward off negative energy, evil spirits, or malevolent forces.

Protection: Many people carry or sprinkle cascarilla around their homes, doorways, windows, and thresholds as a protective measure. It's believed to create a barrier that prevents negative energies or entities from entering.

Astral Travel: In some practices of astral projection and lucid dreaming, cascarilla is used to help protect the physical body while the soul journeys in the astral realm.

Purification Baths: Cascarilla can be added to ritual baths to cleanse the body, mind, and spirit. It's believed to remove negative energies and promote a sense of purity.
It's important to note that the effectiveness of cascarilla largely depends on the beliefs and practices of the individual or tradition using it. While cascarilla has a rich history and cultural significance, its benefits may vary from person to person, and its use should be approached with respect for the cultural and spiritual contexts in which it is employed.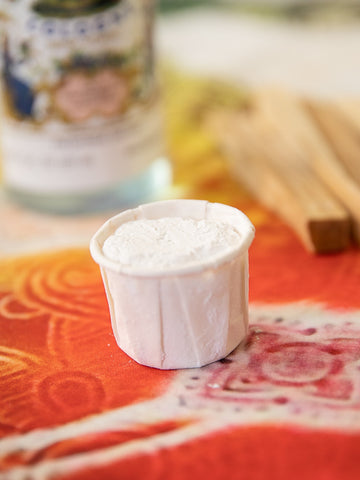 Efun/Cascarilla
Sale price
$5.00
Regular price