Sale price
$40.00
Regular price
Available November 8th
Our Blissful Hair Care set includes our hair butter and our hair growth serum.

Our Blissful Hair Butter is a nice, thick, creamy moisturizer that is great for closing the cuticle and leads to smoother looking hair. It can be used to prevent fly-aways and prevent split ends. Our hair butter has many uses. Those with short curly hair brush it in for gorgeous waves. Those with longer, curly hair can use it to define and condition curls and coils. Those with thin, fine hair can use Blissful Hair Butter as a treatment for hair and scalp before washing. Simply massage into scalp and leave in for at least 20 minutes before washing out if hair is fine and thin. Leave in for thick, curly hair. Raw, unfiltered shea butter is whipped with and a fine blend of premium oils (jojoba, sweet almond, olive, and grapeseed), and essential oils (tea tree, peppermint, rosemary, eucalyptus, and sweet orange) to stimulate hair growth and conditioning. Keep away from heat and direct sunlight or it will melt. We don't add harmful chemical additives or preservatives.
Shelf life 9 months
Our Blissful Natural Hair Growth Serum is made with Jamaican Black Castor Oil and a perfect blend of essential oils.
Jamaican Black Castor Oil is an age old remedy used to fight against thinning hair and hair loss. It is a natural conditioner and moisturizer with antibacterial and antifungal properties that help reduce dandruff and scalp irritations. The antioxidants in castor oil support keratin in hair and help make hair stronger, smoother, and less frizzy. It also works to combat split ends.
Fortified with a blend of essential oils that stimulate your scalp and promote growth.
Massage a liberal amount into your scalp frequently to stimulate growth. The longer it's left in before washing, the more effective the treatment. Take pictures. You won't believe how fast it works. For thick, curly hair its a great leave in. In thinner, straight hair wash out after leaving it in for at least an hour or even over night.
Our serum even works on growing eyebrows. In the notes on your order, please specify that you don't want essential oils for use on eyebrows.
Made to order. Please allow 7 days to process.
2 oz
Comb Brush Set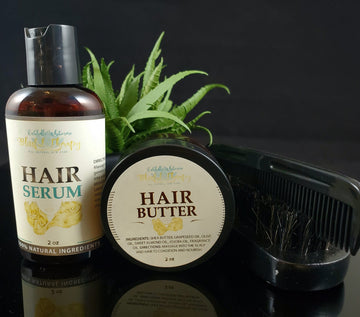 Blissful Hair Care Set
Sale price
$40.00
Regular price